CAMBRIDGE CARBONATES – CORE TEAM
Our CORE TEAM at Cambridge Carbonates consists of three highly motivated, world-class carbonate experts, with more than 100 years collective experience in working carbonates at all stratigraphic levels.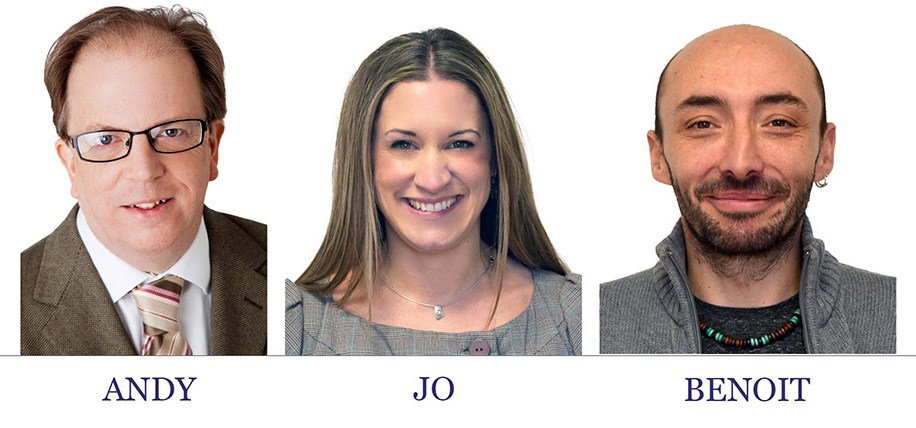 Andy Horbury: Director and carbonate sedimentologist
Andy's interests are mainly focused on the carbonate depositional systems of Arabia and Mexico. He has first-authored or co-authored many key publications on both these areas and has been primarily responsible for the generation of the Cambridge Carbonates map set, over 400 detailed systems-tract level palaeogeographies of the Arabian Plate.
CONTACT ANDY at andy@cambridgecarbonates.co.uk

Jo Garland: Director and carbonate sedimentologist
Jo is a carbonate specialist with 24 years of industry and consulting experience. Jo revels in the challenges of working complex carbonate systems, with expertise including Palaeozoic carbonates and evaporites (with recent focus on the Zechstein), Tethyan carbonates of the Middle East and North Africa, Mesozoic reservoirs of Mexico, and seismic classification of carbonates. Jo's passions range widely from working on a regional scale creating and refining palaeogeography maps, to complex reservoir characterisation and evaluation of reservoir quality in carbonates, in both petroleum and geothermal settings. She aims to demystify carbonates, presenting models and concepts to clients in a clear and concise way.
CONTACT JO at jogarland@cambridgecarbonates.co.uk

Benoit Vincent: Associate Director and carbonate sedimentologist
Benoit is an expert in carbonate sedimentology, diagenesis, and geochemistry, with 21 years of international experience within natural resources. This includes classical reservoir characterisation studies involving all aspects of carbonates, as well development and management of projects dealing with CCS, geological repository, hydrogeology, and mining. He also regularly delivers courses on carbonates and runs field trips on carbonate reservoir analogues, endeavouring to maintain a high level of scientific activity through publications and reviewing.
CONTACT BENOIT at benoit@cambridgecarbonates.co.uk
OUR NETWORK
The strength in using Cambridge Carbonates also lies in our ability to draw on our network of highly respected experts to deliver bespoke multi-disciplinary teams for our clients. Our Network of Experts work alongside the Core Team, both virtually and in-house, and across borders, to deliver projects of the highest quality.